Dr Tira Tan: HERBAL trial explores improving cancer survivors' quality of life through TCM
Cara Yap, 3 May 2021
Study start date: Oct 24, 2019

This study is a Phase II, randomised, double-blinded, placebo-controlled trial to evaluate the efficacy and safety of a Traditional Chinese Medicine (TCM) decoction, the modified Xiang Bei Yang Rong Tang, in alleviating cancer-related fatigue (CRF) in cancer survivors. Study participants will take their assigned decoction daily for a duration of eight weeks and be assessed using patient reported outcome (PRO) questionnaires. PROs used are the European Organisation for Research and Treatment of Cancer Quality of Life Questionnaire (EORTC-QLQ 30) for QOL, the Multidimensional Fatigue Symptom Inventory Short Form (MFSI-SF) for fatigue and Functional Assessment of Cancer Therapy-Cognitive Function (FACT-Cog) Version 3 for cognitive abilities. The changes in scores measured by these assessment tools will be compared between the XBYRT intervention and placebo groups. Blood biomarkers such as inflammatory cytokines, mitochondrial DNA and oxidative stress markers will also be evaluated in the study participants.
About the principal investigator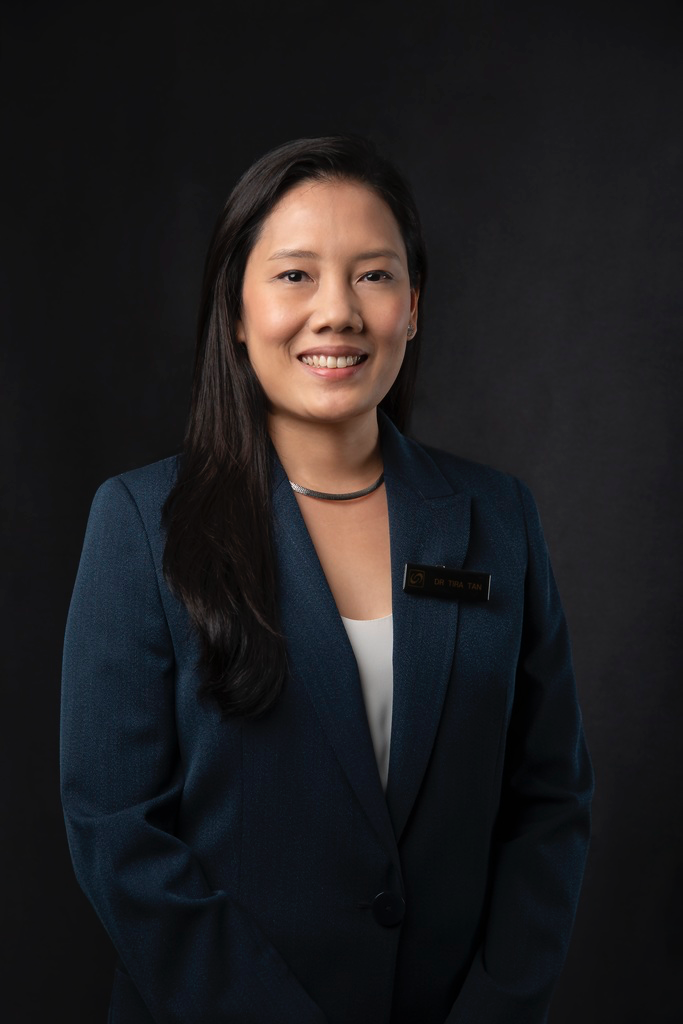 Dr Tira Tan, Consultant, Division of Medical Oncology, National Cancer Centre Singapore
Following the completion of her training in 2015, Dr Tan joined the Women's Oncology sub-specialist team at the National Cancer Centre of Singapore's Division of Medical Oncology as well as its Phase 1 unit, where she actively recruits and follows up on patients in several industry-sponsored and investigator-initiated clinical trials. Dr Tan has experience with novel, first-in-class, first-in-human compounds in addition to immune oncology studies and has conceptualised and written several investigator-initiated protocols. In 2018, Dr Tan undertook a fellowship in the Robert & Maggie Bras and Family New Drug Development Program at the Princess Margaret Cancer Centre in Toronto. Currently, Dr Tira Tan's research interest lies in the study of breast cancer and early drug development. Specifically, she focuses on novel therapeutics and treatment strategies in triple negative breast.
*Intended readers: healthcare and industry professionals
What was the basis for this ongoing trial?
This study looks at improving cancer survivors' quality of life, and stems from an observational study conducted by our group which documents a fairly high prevalence of cancer related fatigue in breast cancer survivors. It was estimated that about four in 10 breast cancer survivors suffer from cancer related fatigue (CRF), for which existing therapies are limited in scope and efficacy. Typically, such patients are advised to try non-pharmacological interventions such as exercise and cognitive behavioural therapy. Some have tried stimulants or anti-depressants, but these haven't really been efficacious, so clearly this is an area of need.
Locally, we've observed that patients with persistent and debilitating symptoms often turn to alternative therapeutics such as traditional Chinese medicine (TCM). We sought to explore a culturally appropriate intervention for CRF. There are many unanswered questions surrounding the use of TCM in cancer supportive care, hence the design of this trial.
Is this study a first for NCCS in terms of merging Western medicine and TCM?
There have been other studies which have explored the use of TCM in cancer therapy. This study is unique in its scientific design which includes placebo control, randomisation and the use of well validated assessment tools to evaluate different domains of quality of life.
How common is the merging of Western and Eastern medical practices in oncology, in this part of the world?
It is very common, though this typically takes place without endorsement from oncologists. A lot of times, our patients take TCM without necessarily informing their oncologists, so the use of TCM by cancer patients may actually be under reported.
CLICK HERE TO SIGN UP: Our trial notification service ensures automatic updates on new cancer clinical trials like this
Why is this particular study so significant?
The potential for TCM to complement Western medicine can be huge, though it obviously needs to be further studied in a safe way. This study is a start. We often receive requests from patients to endorse the use of TCM, which we are often reluctant to do because their safety and benefits have not been well documented in a fashion that clinical practitioners can interpret. The practice of TCM is almost anecdotal and subjectively reported, but not really systematically documented, which is why a study like this needs to be done.
Given that this study is the first of its kind, how did you go about designing it?
We had to be clear about our end point and what we are trying to demonstrate. We also had to ensure that it was feasible, so we decided to conduct a small and scientifically robust study that would indicate whether this strategy is worthy of further exploration.
How do the teams spearheading this study manage to work effectively and cohesively across disciplines?
This study is essentially a collaboration between us medical oncologists, the pharmacists who were instrumental in the study design and conduct, and our TCM collaborators from Singapore Thong Chai Medical Institute. In terms of recruiting patients, we reached out to colleagues of different departments to talk about the study and obtain their buy in and feedback on its design. It has been quite a good experience working with the TCM practitioners from Thong Chai, who have been open-minded and collaborative.
There are certain assessments that the Chinese physicians use in their evaluation of the patients, which only my TCM collaborators can explain, but we merge the criteria by sticking to a safe group of patients with a lower risk of being exposed to TCM, and subsequently monitoring them regularly. They have laboratory assessments every four weeks or so, whereby we examine their blood work and organ function to ensure that there are no undue toxicities from the TCM.
What is unique about this particular TCM decoction?
According to Ms Zheng Huangfang, Chief Medical Officer and TCM Physician from Singapore Thong Chai Medical Institution, Xiang Bei Yang Rong Tang is modified from the traditional formula Ba Zhen Tang. The latter is based on Si Jun Zi Tang and Si Wu Tang, which are two fundamental formulas for nourishing Qi and Blood, respectively. XBYRT includes the addition of four herbs that regulate Qi and resolve phlegm. XBYRT is a formula from ancient Chinese medical literature written during the Qing dynasty in 1742, and has been used since then. It is mainly used to nourish Qi and Blood, regulate Qi and resolve phlegm. It is indicated for use to treat lumps and sores that may have persisted for some time, due to insufficient Qi and Blood, and/or Qi and Blood stagnation, resulting in the formation of lumps and sores.
How exactly is TCM concoction administered?
The decoction is essentially ground into granules and packaged individually. The same is done for the placebo, so it looks and smells similar; participants are not meant to be able to tell them apart. Participants dissolve the granules in water and the herbal infusion drunk once daily for eight weeks.
Who is eligible for the trial?
Cancer patients who are in remission and have completed active cancer therapy at least four weeks prior to enrolment. Patients also have to experience a certain level of fatigue, which is scored on a scale of zero to ten. We are seeking patients who experience persistent fatigue over a course of seven days or more. We do, however, exclude patients with brain cancer, because therapies used to treat the disease are associated with cognitive impairment, which can impact some of the result measures. Patients with other medical conditions that can result in fatigue (i.e. severe anemia or thyroid dysfunction) or who are on fatigue causing medication such as beta blockers will be excluded from the study as well, because these factors can confound our results.
What else should physicians and cancer patients take note of, with regards to this trial?
The decoction used in this particular study is designed to answer a specific question, so we cannot use a blanket statement asserting that TCM is helpful in treating all cancer related symptoms. We have to be mindful that the study is in its early stages, and represents a start in examining the use of TCM to treat cancer related symptoms safely. We should recognise that TCM means a lot of things to a lot of people, and therapy can include things such as acupuncture massages and TCM herbs. Hence, cancer patients considering TCM should speak to both their oncologists and TCM professionals to ascertain their eligibility.
The trial above is featured on Oncoshot's regularly updated listing of cancer clinical trials. Visit the page to discover more trials that may be suitable for your patients.
*The content in this article is purely educational and written for healthcare professionals. It does not contain forward-looking statements, or those specific to commercial enterprise.