Dr Raghav Sundar: The precision oncology wave in Singapore is coming
Cara Yap, 21 September 2021
Image credit: ST PHOTO, MARK CHEONG
At a recent presentation and discussion about Singapore's National Precision Medicine (NPM) Strategy hosted by government-owned deep tech investor SGInnovate, Professor Patrick Tan, the executive director of Precision Health Research Singapore (PRECISE) expressed his hope for industry partnerships that can reimagine how genomic data is used, stored and mined. He highlighted that the ultimate goal is to establish win-win collaborations for public health, private companies and startups, as well as people around the world.
While Singapore has launched the second phase of its NPM strategy, which aims to further research insights into the Asian phenotype and implement precision medicine on a national scale, precision oncology in particular, faces limited adoption in Asia - as compared to the west.
Dr Raghav Sundar, a consultant at the National University Cancer Institute (NCIS), Singapore's department of haematology-oncology, thinks all that is about to change. "The adoption of large panel Next-Generation Sequencing (NGS) in developing countries especially India and China is becoming quite broad, although the robustness and clinical accuracy of these panels require further validation," he says.
The clinician-scientist, who is particularly interested in precision oncology and biomarker development, says that genomic data will become more readily available in relation to lowered sequencing costs in the region. How it is used in clinical practice, however, is another question, owing to the fact that access to specific drugs is limited in developing countries. This, he adds, is different in Singapore, where "we do have a fair number of targeted therapy trials looking for specific genomic aberrancies, but there hasn't been the widespread adoption of NGS panels until now because it is quite expensive."
While the latter has, until now, been arguably prohibitive to the proliferation of precision oncology, Dr Raghav points to Singapore's recently announced adjustments to its compulsory national health insurance scheme as a step in the positive direction. "The recent changes that are happening with MediSave and MediShield Life have sparked talks about whether these panels can be reimbursed. I think the landscape will change quickly in the next couple of years once you see a widespread adoption of broad-based panel testing," he says, adding that NCIS offers NGS panels to eligible patients who enter their Phase One clinical trials.
But the cost of NGS testing is not the only obstacle in the way of advancing precision oncology in Singapore. One of them relates to an increasingly complex drug development process. "There are drugs being developed by platforms using different assays, and whether these assays can be incorporated or interchanged with the current ones, needs to be addressed - along with how they are incorporated into clinical trial testing and daily clinical practice," he shares.
He goes on to explain that there exists a lot of uncertainties over what a drug is targeting while it is being developed, while assays that are used to measure the targets are typically developed simultaneously. "To develop both together is a non-trivial task and actually takes a lot of effort, time and money in the early phases of drug development. A considerable amount of thought and due diligence needs to go into developing your companion diagnostic to factor in assay validation, reproducibility, and the ease of delivery in clinics," he says.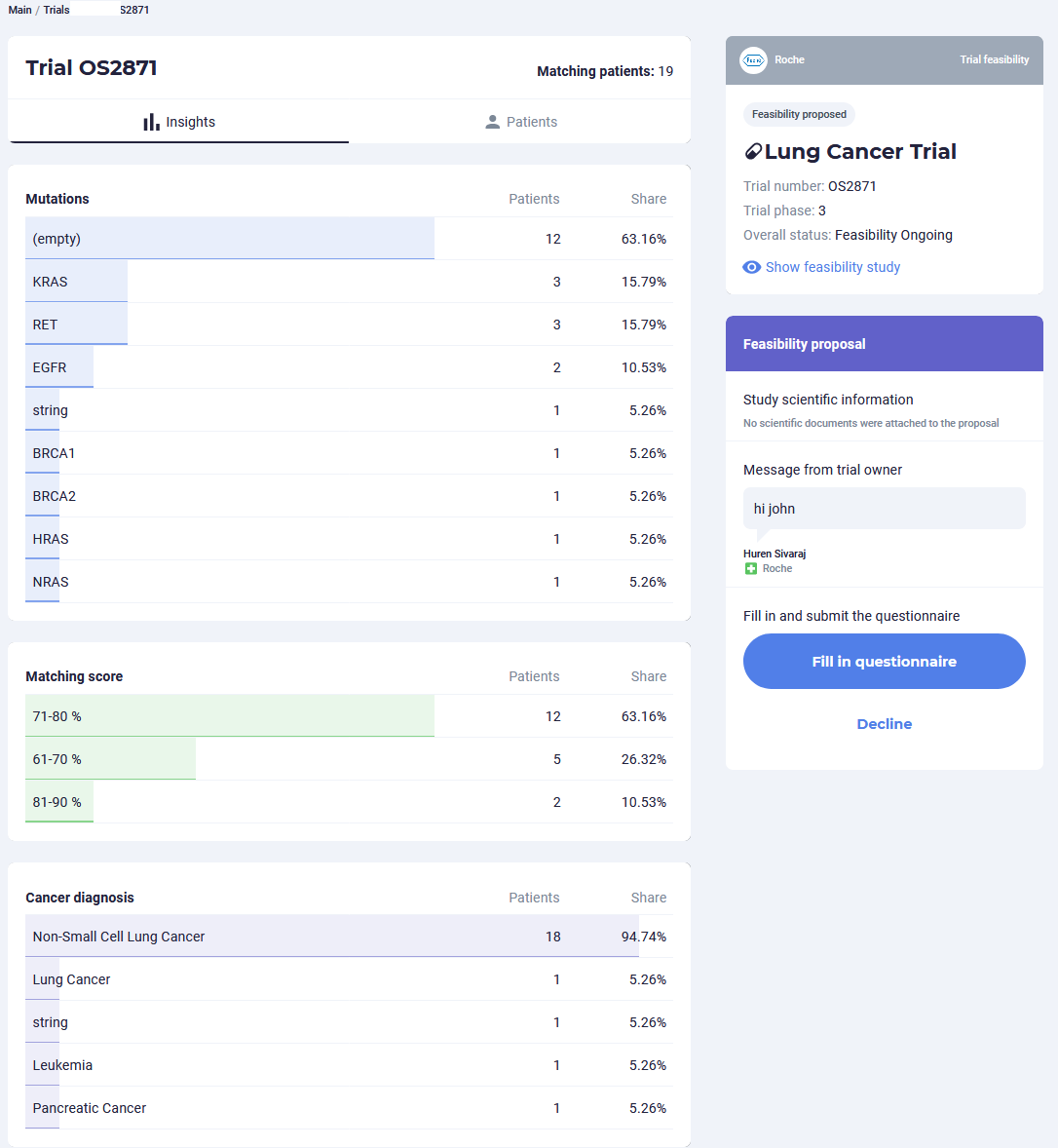 Oncoshot offers healthcare professionals detailed data analytics on cancer patient populations
However, emerging technologies such as machine learning and Artificial Intelligence (AI) are currently being harnessed to incorporate the use of real-world data to gain relevant insights that can decrease errors related to diagnostics, screening for trial enrolment and therapy.
For instance, Oncoshot recently partnered with Roche Foundation Medicine (FMI) on a pilot programme that extracts detailed molecular information from the NGS provider's reports to match cancer patients to relevant targeted therapy clinical trials and offer trial sites supporting analytics through the use of AI. The system then provides automatic notifications to oncologists when new trials that match their patient profiles are available within Singapore. This is an additional capability that goes beyond what a physical genomic sequencing report currently offers.
With the deployment of the pilot programme, there is the potential to increase patients' chances of accessing suitable targeted therapies, as well as to help trial sites map out their research capabilities and expand their portfolio. This service is yet another cog in the wheel of a data-driven ecosystem that maximises access to treatments and trials for cancer patients.
"As oncologists, we are buoyed by the hope of more effective cancer therapies presented by the rapidly advancing field of NGS, but face limitations posed by existing manual processes and non-digitised data in effectively utilising vital genomic information. Our partnership with FMI allows us to explore opportunities to provide crucial analytics in a timely fashion for the benefit of patients and their managing oncologists," says Dr Huren Sivaraj, CEO and co-founder of Oncoshot.
CLICK HERE to find out how Oncoshot's NGS programme with Roche Foundation Medicine benefits doctors and cancer patients
In his own sphere of research, Dr Raghav uses machine learning techniques to better understand existing genomic data algorithms and predict biomarkers more accurately, as well as identify patients who may benefit from certain therapies. This is in addition to NCIS' Integrated Molecular Analysis of Cancer (IMAC) precision oncology programme, whereby eligible cancer patients with genetic aberrancies who undergo NGS panel testing are recommended for specific treatment options, which may be offered in clinical trials. Dr Raghav is also involved in a study that explores improving individual patient dosing through the use of AI.
READ: Dr Dean Ho and Dr Raghav Sundar on how PRECISE CURATE. AI trial bridges innovation and clinical implementation
In recent years, tech innovation has played no small part in precision oncology within Singapore and Asia. "Singapore has been pushing very hard in the novel biomarker tech space, and there are several new discoveries. For example, there are many groups doing single-cell sequencing and spacial transcriptomics, as well as newer techniques of immunohistochemistry such as multiplexing immunohistochemistry," he shares. Such technologies are able to study tumours beyond just DNA and RNA, and incorporates aspects such as their micro environment.
However, Dr Raghav adds that such platforms lie at the deep end of technology development, and it will take time to apply related discoveries to the clinical setting. "Singapore is a small country, therefore doing large-scale validation studies is not going to be so straightforward. In the meantime, we do have local companies that are looking at addressing the immediate clinical space with things such as locally developed liquid biopsies, including that by Lucence," he says.
Despite its limitations, Singapore's size lends it well to agility, especially when it comes to leveraging genomic and other data for improved clinical outcomes. "We are a country of more than five million people, where most of our patients are data and tech savvy. Hence, if we want to start incorporating patient data or get them to contribute other types data collected from wearables/mobile phones such as an aggregate of the number of steps walked, sleep timings and heart rate, it is not difficult," he shares.
Not to mention, the seamless nature in which data is transferred through Electronic Medical Records in Singapore's well-integrated healthcare system.
With that being said, he admits that regulatory safeguards around data privacy are necessary and unavoidable. This has direct implications for potential collaborations between the private and public sector, of which Dr Raghav is looking forward to seeing more, once security issues have been properly addressed. This could, for instance, involve the use of population data, as opposed to that on an individual patient level.
"This is not a trivial task and a lot of time, thought and care needs to be put in place to ensure that patients' privacy and data are well-protected, considering the ease of which data can be used and abused. At the same time, industry-academic collaborations are becoming more common and should be the way to move forward with advancing precision oncology," he concludes.
Want to accelerate your cancer research and improve your patients' clinical outcomes by harnessing genomic data? Reach out to us at support@oncoshot.com or 81899531